New Office Branded for Highhouse Insurance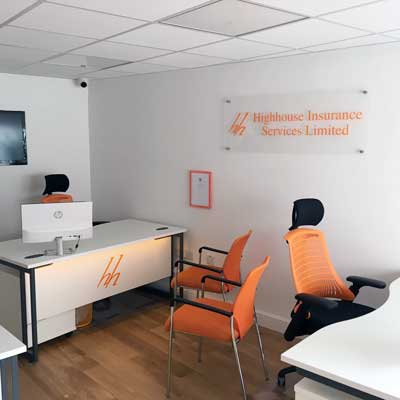 Tuesday, March 27, 2018
After a change of premises, Highhouse Insurance Services were looking to brand their new office!
An on site meeting was held towards the end of 2017 with Highhouse Insurance at their new premises whilst internal building work was very much still in progress. Owner Neil Kimber, discussed his vision for the internal and external signage, which we started to install throughout the beginning of 2018.
First job for us was to install the internal wall mounted acrylic panels, they featured orange vinyl logos and were raised away from the wall using stand off locators. The orange logos against the clean white wall space instantly draw your attention, and the acrylic gives a smart and professional look throughout the office.
Once office furniture was assembled it was another trip back to install some vinyl logos to the desk fronts, this simple finishing touch splashes some colour and branding in the office effectively.
Days before the office was due to open, the fascia board went up along with some vinyl lettering to the window, and shop number acrylics. The fascia board was made from an aluminium composite panel mounted with a quality external grade vinyl logo. Window graphics were cut in brand fonts and matched the orange colouring, and the acrylic shop numbers matched the style of the internal acrylics, swapping out the orange lettering for white to lift the graphics away from the external brickwork.
They are now operating from their newly branded office at 101 High Street Selsey.