Selection Of Signage For Screen On The Green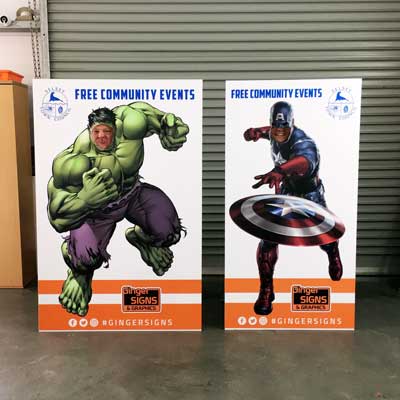 Monday, August 13, 2018
This year we produced a variety of signage for Screen On The Green, Selsey's annual free community cinema!
Our first job completed for this years event was supplying and installing the adverts to the life ring boards along Selsey' seafront back at the start of May. The adverts were printed onto a short term vinyl so can be easily removed ready for the next up and coming event.
We also produced directional signage for the three day event, after discussions with Selsey Town Council we suggested laminated correx boards which can easily be cleaned up after the event and stored away for next year.
As the weekend drew closer we designed and supplied printed banners to be used at the event for local businesses Highhouse Insurance Services and The Crab Pot Micropub. As well as the banners we also supplied some cost effective 'compliments of' stickers for Highhouse Insurance and Sweets & Treats to be used on sweetie bag giveaways.
Last of all we helped out with the Selsey Town Council' photo booth, two bespoke selfie frames were made buy us, and we also donated two large superhero photo booths. These 1.5m tall superhero themed photo stands were made from 8mm correx, with a matt laminated vinyl print applied, and face cut outs for the perfect photo opportunity!