Ginger Snaps - October In A Nutshell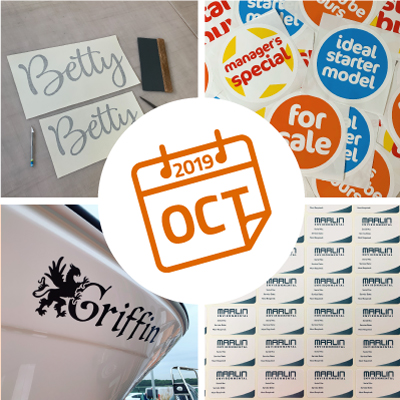 Thursday, October 31, 2019
Hello again! Anyone else feel like they blinked and missed October? It certainly feels like we have. Lots of variety again this month, boat names, stickers, workwear, shopfronts and promotional mugs to name a few. Is everyone used to spending the tail end of the working day in dark mode? Autumn has well and truly kicked in, we definitely got the orange jumpers out! Here's a look at some of this months work.
Boat Names In Birdham & Chichester
We've been busy this month designing, supplying and installing boat names for local businesses RBS Marine, based in Birdham Pool Marina and Blackrock Yachting located at Chichester Marina. If your boat needs naming, we can definitely help! We can produce a name using your own design, alternatively we can take your ideas and create a custom piece of artwork unlike any other boat name out there! Want to install yourself? We happily supply all boat names install ready for you to apply yourself, or we can come and carry out the install ourselves.
Static Window Graphics
Bunn Leisure's sales team required some window stickers that were easy to install and remove when no longer required. Our solution to this was to print their graphics onto 'Static Cling', a PVC film that adheres to glass with nothing more than static attraction. It's easily applied to windows and can be used on the inside or outside, perfect for short term promotions and no glue residue to clean up when you remove the graphics. Due to the film clinging to the glass, it gives a clean professional look compared to posters that are stuck to windows with sticky tape and blue tack! If you want to tidy up your display windows get in touch about some Static Cling posters today! PS: Christmas is just around the corner, and this film is a great way to add a festive touch to your windows whilst advertising your Christmas sales.
GWA Cars II
GWA Cars & Finance are a company we have been working with for many years, back in 2017 we fitted the signage at their new shopfront on Coastguard Parade in Bognor Regis, cut to 2019 and they have expanded, two doors down another office needed branding! With the big steps on the roof rack we headed off to bognor to install the raised blue acrylic lettering to the pale grey shopfront, as well as digitally printed vinyl graphics for the windows and some etched vinyl to the door too! The second office's branding mirrors the first one, guaranteeing a recognisable image for their customers. If you're looking for a new car, why not give them a visit, they helped us out at the start of the year with our new van.

Printed Stickers for Marlin
We produce lots of stickers here at Ginger Signs that can be used for a variety of things, from product labels, to servicing stickers, packaging labels or just used as general adverts for your business. One style of sticker we produce is a printed vinyl sticker, we have made some this month for Marlin Environmental, to be used as service stickers. These were printed onto an external grade vinyl with a high tack adhesive to ensure they will stick to all kinds of surfaces. They were then over laminated with a protective gloss over laminate to stop the ink being scuffed and to allow their engineers to write on them with marker pens. Once the laminate is applied they go back through the machine to be cut to shape, the excess material is then weeded away leaving the stickers on the backing sheet ready to peel and use.
Vintage & Modern Shop Signage
A new shop has arrived this month along Selsey High Street, 'Vintage & Modern' located at 145 next to Waves Café sells a variety of vintage pieces including clothing, jewellery, glass & china and collectable magazines. We were tasked in creating graphics for their shop facia, final design consisted of gloss black lettering applied directly to the grey painted shopfront. Classic fonts, laid out in a minimal and tidy way create a smart and professional looking shop front.
As we head into November we're getting ready for Christmas! Take a look at our glass deco blocks here, they make for unique decorations for your home throughout the festive season. As always give us a follow on our social media pages below for up to date snaps of what we have been working on.