Ginger Snaps - November In A Nutshell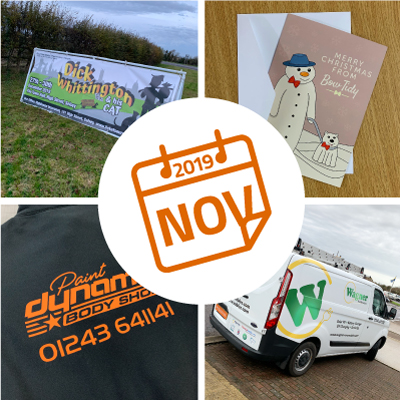 Saturday, November 30, 2019
As November comes to an end we are fully prepared for all things Christmas, we've got ourselves some new festive office mugs and have even switched the radio over to the Christmas station a few times this week, disappointingly though I don't think we have room in the office for a tree! As well as preparing for the most wonderful time of the year we've been working too! Here's a snapshot of November.
Windows Refreshed For Marlin
At the start of the month, we took a trip to Marlin Environmental at Chichester Marina to update their window branding. What was a long list of etched vinyl bullet points is now a few essential pieces of information and a QR code which directs to further info. We replaced the etched cut vinyl lettering with gloss white which really stands out well on the glass. Their Safety Training advertising window is kept simple by having a small list of their most popular courses, with a QR code taking you to the full list of courses on their website. On this occasion less is defiantly more!
Christmas Cards For Bow Tidy
East Wittering based Bow Tidy are spreading the festive cheer this year by sending their customers out branded Christmas Cards. Designed using their brand colours and logo these bespoke cards are unique, whilst wishing your customers a happy Christmas you are also getting your branding out there to build up some brand recognition. Theres still plenty of time to order a set of personalised cards, send us a message if they're on your Christmas list this year.
Wagner's New Wheels
Wagner Renewables had a new vehicle that was calling out for some advertising. Their marketing manager Darren sent over his vision, including large logo elements in the rear quarters, vinyl lettering and logos to fill the panels. We used a variety of vinyls on this vehicle including printed wrap vinyl for the large logo elements to prevent the vinyl popping out of the recesses, gloss black cut vinyl for bullet points and contact details and printed, laminated and contour cut logos to achieve Wagners signature green gradient branding. The finished job looked great and it definitely catches your eye, wether its on the road or parked up on a job!
Another Cloud Nine, Pantomime!
Yes, it really is that time of year again, Selsey's annual pantomime by musical theatre group Cloud Nine this year is 'Dick Whittington & His Cat'. We've designed and produced a variety of advertising material for this years show, including social media adverts, a range of different sized posters, A6 flyers and a large 3m x 1m mesh banner and banner frame, if you're driving in or out of Selsey, i'm sure you will have seen it. The mesh banner is perfect for this time of year, as weather can be unpredictable, if we get any strong winds the construction of the banner allows the air to pass through meaning less stress on the eyelets. The performances are running from the 27th - 30th December, if your looking for somthing different to do in between Christmas and new year you can grab your tickets HERE!
New Workwear for Paint Dynamix
Located two doors down from us on Enborne Business Park in Sidlesham is Paint Dynamix, they were in need of some new workwear. After browsing through the vast amount of options they chose their garments, which we then branded up using heat transfer vinyl. The orange contrasts brilliantly against the black uniform, if you could do with some new workwear in time for the new year, get in touch, we'd love to help.
As we head into December we have some vehicles in for sign writing, we also have a few Printed Santa Sacks to personalise ready for the big day! As always follow us on social media to see what we are up to during the countdown to Christmas.