Our New Website Is Live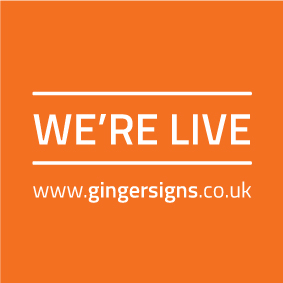 Thursday, August 23, 2018
Under construction no more... WE'VE FINALLY GONE LIVE!
Since starting the company over 12 years ago we have always wanted a website that showed off what the company had to offer.
In the early days of XL Graphics we had a basic presence on the web with a simple page stating who we were and our contact details.
Throughout the years the plan was always to have a much more informative site, however due to many reasons this never happened.

Cut to 2015, and the rebrand to Ginger Signs and Graphics, following the relaunch we started to focus allot more on social media to keep our customers updated with what we were up to.
In 2017 Les made the decision that we needed to enter the world wide web properly, after constantly telling our customers that the website was under construction.....
Following months of investigation and looking into creating a template based site. Les concluded that was not the best way forward and what we needed was a bespoke site designed and built with the exact functionality we required.
In June of 2017 we met with Nick from Website Success, to chat about what we were looking to achieve with the website. After many discussions a proposal was agreed and in August work began on our brand new site.
After months of hard work we are proud to reveal our website. Our designs have been turned to reality and we have a bespoke site that meets all the functionality we required. The end result looks fantastic and we would like to say a huge thank you to Nick and his talented team at Website Success.
This is the final part of the rebranding and we have invested a lot of time, effort and money, but this is only the beginning of what we envisage our website to be, make sure you sign up to our newsletter to be informed of new products due to be updated in the coming weeks.