Munneries Printed Flag Reaches The Peak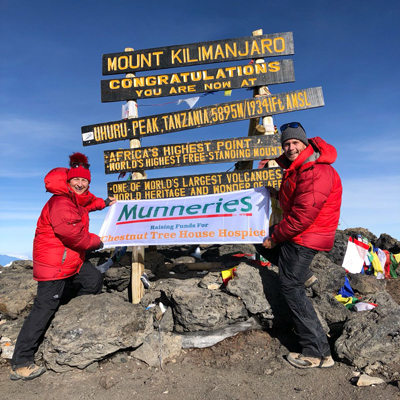 Monday, September 17, 2018
Munneries climb to "The Roof of Africa" and fly their bespoke printed flag 5,895 metres high!
For those of you who didn't know, Julie and Peter from Munneries Greengrocers in East Wittering have just completed a mountainous challenge. Mount Kilimanjaro is the tallest freestanding mountain in the world and last week Julie and Peter climbed their way to the peak!
For the perfect photo finish, we designed and supplied a bespoke printed flag. The ideal alternative to a banner as it's light weight and easily rolled tightly so can be stored in a rucksack.
More importantly they have not only completed the climb as a personal challenge, they have been fundraising for Chestnut Tree House Hospice, the children's hospice for East and West Sussex, Brighton and Hove and South East Hampshire. You can still make a donation by clicking HERE