Ginger Snaps - June In A Nutshell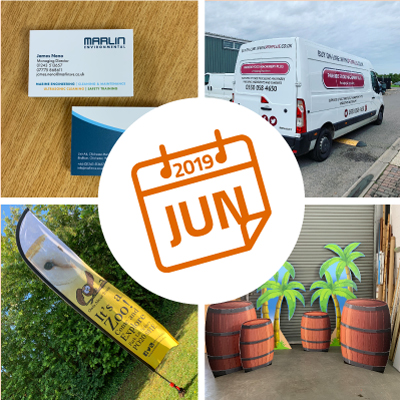 Sunday, June 30, 2019
The Summer months are here! We've been busy this month with lots of you getting prepared for your Summer events, we've also made sure to find room in the fitting kit for some factor 50 sun screen! Here's a snapshot of what we got up to throughout the month of June.
Summer Panto At Bunn Leisure
Two 8ft palm trees, market stalls and extra large barrels, it's time for a pantomime at Bunn Leisure! Always an interesting job with a variety of pieces to create, these stage props produced for Bunn Leisure are made from 8mm correx board fitted with a matt finish printed vinyl and hand cut to shape. They looked fantastic and we're sure they will look even better once they're brought to life on stage this summer in Bunn Leisure' production of Dick Whittington!
Feather Flags For Feathered Friends
Selsey based Owls About Town required some feather flags to be used at various events throughout the year. These medium sized flags stand just over 3m high and definitely make an impact. Made from a long life flag material and supplied with a carry case and plastic screw base, making for an easy assembly. If your looking for something different to do this summer, why not take a trip to meet the troops at Owls About Town!
Penny Lane Gets A Refresh
Located at 118 High Street Selsey is Penny Lane Shops & Café, which has recently had a refreshed new look for the summer. The external woodwork has been painted a charcoal grey, and we have supplied and installed flat cut acrylic and moulded letters to the fascias. All lettering stood away from the fascia using stand off locators results in a very smart and professional look, if your shopfront could do with a refresh, get in touch today!
Business Cards For Local Businesses
Did you know that we can design and print business cards? We Can! This month we produced cards for local businesses Premier Motorhomes and Marlin Environmental. Both companies cards printed onto a 450gsm card with a matt finish laminate. Silky to touch the matt over laminate softens images and smoothes out colours resulting in a smart professional finish that both Marlin and Premier were looking to achieve with their business cards.
Vehicle Graphics For Parkers
Bognor Regis based Parkers Food Machinery Plus had two new vehicles that needed branding up. We designed, produced and installed their sign writing, which included printed vinyl logos with a protective gloss over laminate and gloss black and burgundy vinyl lettering. The final result looks great, very clean and tidy in design, any potential customers can clearly see who Parkers are, what they do and how to contact them.
Heading into July we will be working on some vehicle graphics for more local businesses, and some signage for events coming up this #summerinselsey. To keep up up to date with work we've produced give us a follow on our social media pages.