Ginger Snaps - July In A Nutshell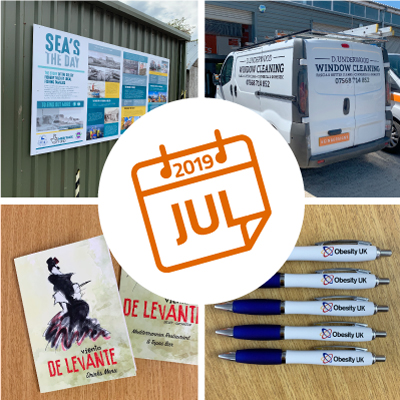 Wednesday, July 31, 2019
These end of the month blogs come around far too quick! With the weeks of July racing by we have been busy with a wide variety of work from promotional products to vehicle graphics to printed flags and wall graphics. We've also been melting in the unit this past couple of weeks, but I suppose it's better than us burning in the sun! Here is a snapshot of the past month at Ginger Signs.
Flags Up, Pools Open
Selsey Country Club required a bespoke flag produced to fly high when their pool is open for members. We designed and produced a 1.5m x 1m flag, made from a strong 115gsm flag material finished with cord and loop. Printed flags are great for company advertising and sales promos, if you could use a flag this summer to promote your business get in touch here.
Sea's The Day Signage
Sea's The Day, is a project launched thanks to a National Lottery Heritage Fund which aims to raise the profile of Selsey's fishing industry. Working with Selsey Town Council we produced and installed signboards which tell the story of the Selsey Fishery, told by local fishing families. The signs were full colour printed onto a quality external grade vinyl with a protective gloss over laminate, mounted to aluminium composite, if you're heading to Selsey beach this summer be sure to stop and have a brief history lesson on Selsey's fishing history!
Menu Refresh For De Levante
Mediterranean Restaurant & Tapas Bar De Levante, have refreshed their Chichester menu. After implementing the changes across the main, drinks and desert menus, we re-designed their Selsey menus to mirror their Chichester branding. Now all logos, fonts and colours are cohesive, resulting in a smart and professional look. The printed main menu was a tri-folded print, with a protective over laminate and drinks menus were produced from A4's half folded, again with a matt finish over laminate for a silky smooth finish. Visit De Levante this summer and try out some of their new dishes whist enjoying a sangria in the sunshine!
Wall Graphics For CDC
Chichester District Council came to us wanting to refresh their current wall graphics, which consisted of a painted logo and stripes that had started to fade and look a little worn. We began work re creating the graphics and produced them printed onto a high tack adhesive vinyl, laminated with a protective matt finish over laminate to prevent internal lighting from bouncing off the graphics. After the painters had been in and returned the wall back to a blank canvas we headed into Chichester to install the graphics, the results looked great, bold, punchy with crisp clean contour cut edges. Wall graphics are a great way to add company logos and branding elements to your office walls, give us a call if your office walls are in need of some branding to bring them to life!
Black Letters, White Van, A Winning Combination
At the start of the month, we designed, supplied and installed graphics for Selsey based D.Underwood Window Cleaning. The branded vehicle featured gloss black cut vinyl lettering, smartly laid out against the white panels the graphics are just as effective as full colour printed graphics. On this occasion less is definitely more!
One Stop Print Shop
This month we produced several printed products for Obesity UK, a support and awareness group for people living with obesity. Amongst the products produced were Roller Banners, printed onto high quality light stop roll up material, printed A6 Flyers and even Branded Pens. By working closely with our customers, building a relationship and knowledge of their brand we are able to help with almost all of their branding requirements, from the initial design concept through to the implementation.
Heading into August we have a few vehicle graphic installs coming up, keep an eye out on our social media pages for a first glimpse of those. Additionally we have a handful of local shops that need their shopfronts updating!