Ginger Snaps - January in A Nutshell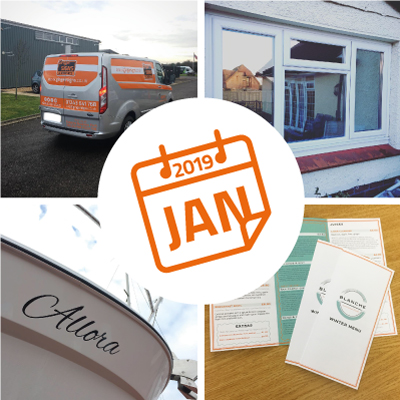 Thursday, January 31, 2019
January, icy starts, slightly lighter evenings and diets ruined by creme egg season! Heres what we've been up to over the first month of 2019.
New Year, New Van
Thanks to bognor based GWA Cars we started the year with a new set of wheels! After a few design tweaks we found the time to brand it up, featuring orange flooded panels paired with cut vinyl logos and contact details. Thanks to Metamark' new range of colours we also got to try out our new favourite shade of orange M7 Pumpkin. Les is also very happy he now has apple car play!
Whats On The Menu?
This year January seems to be a month for new menus. We've designed and printed a selection of menus for De Levante' new Tapas Bar & Restaurant in Chichester. We have also printed some A4 Tri-Fold Leaflet Menus for Blanche Foods, a local company that sell healthy brunch bowls, snacks and juices delivered to you! Les has also been busy over the last few days working on menu refreshes for local businesses 'The Local Cafe Selsey' and Chinese Restaurant "Summer Palace".
Mirror Finish At The Selsey Club
The Selsey Club wanted to keep their view out, but obscure the view into their kitchen window. We reccomdmednd a mirror finish window tint. Installed from the inside it allows a clear view out and creates a mirror reflection when viewing from the outside.
First Boat Names Of The Year
We've busy working on boat names over the last couple of weeks. Designing, cutting and supplying in marine grade vinyls and installing locally at Chichester Marina and Northshore Shipyard in Itchenor. Ryan's been finalising a few more name designs ready for approval and install in the up and coming weeks.
This month we have also launched our collection of Valentines Déco Blocks, which make for a unique gift for your loved one on Valentines Day. Read more about those HERE.
We cant believe the first month of 2019 has come and gone already, be sure to follow us on our Facebook, Instagram and Twitter pages for daily updates on what we've been up to here at Ginger Signs.