Ginger Snaps - September In A Nutshell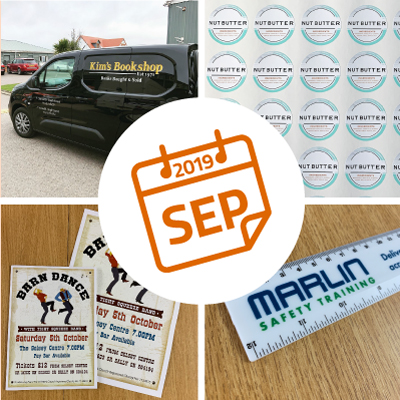 Monday, September 30, 2019
It seems autumn has landed, we may need to get the jumpers back out in the coming weeks, and yes they are bright orange to match our new polo shirts! Once again it's been a varied month, which means every day here at Ginger Signs is different, we can be in the office producing design proofs for all of your print and signage projects, prepping said projects in the workshop or out on site bringing them to life with a final install. Here's a snapshot of Septembers work.
Product Labels For Blanche Foods
Chichester based Blanche Foods, required some product labels for their nut butter. Printed in batches the matt finish labels were created to owner Grace' required size. Our digitally printed vinyl labels are cut to shape and supplied on backing sheets ready to peel and use. There are lots of options for stickers and labels including gloss and matt finishes, over laminates for scuff protection and high tack adhesive options, ideal for sticking to cardboard packaging. If you're interested in some stickers, to use as product labels or even for free giveaways to your customers give us a call, we'd love to help.
Kim's Bookshop Vehicle Graphics
This was vehicle number 2 for Kim's Bookshop, who have branches in Chichester and Arundel, so it was important to keep their branding consistent. With the van being the same colour as their first, this was an ideal start, so a re scale of artwork was all that was required. The black van with silver and melon orange cut vinyl makes for a striking combination. With the design being kept simple, on lookers can instantly focus in on the essential information Kim's Bookshop want to relay. The finishing touches were added to the van this week by our neighbours Paint Dynamix, who sprayed the wing mirrors to colour match the melon orange vinyl logo meaning this vehicle will definalty stand out from the crowd.
Branded Workwear
AW Garage Doors required some new workwear printed, using full colour printed heat transfer vinyl we supplied polo shirts as well as t-shirts. As well as the clothing for AW, we also heat transferred logos to shirts for Chichester based Blackrock Yachting. On this occasion we pressed onto their own garments, if you have a particular brand or style of clothing you like to buy we will heat press onto it for you, rather than us supplying the items. As the weather is getting cooler, why not get some branded jumpers or hoodies? Get in touch for a quote.
It's A Barn Dance
Grab your partners, it's a barn dance, this Saturday 5th October. We've designed and produced print and signage adverts for the last two fundraising events for Selsey's St. Peter's Church, and were thrilled to get to work on their latest one, 'A Barn Dance' with 'Tight Squeeze Band'. Amongst the advertising material designed and supplied were roadside correx boards, a range of 'A' sized posters and a full colour printed banner. The event which starts at 7pm is being held at the Selsey Centre, where you can purchase your tickets!
Promotional Products For Marlin
Marlin Environmental were in need of some promotional rulers for their Safety Training division. We designed and supplied full colour printed rulers that seamlessly tie in with their branding. Branded stationery: pens, rulers, notepads are all useful items, that when given away as freebies to your potential new and existing customers will be used! Resulting in your brand, logos, colours and imagery being viewed every day, building up recognition.
In the coming weeks we have some more shopfronts to re brand in Selsey, as well as a trip to Bognor Regis to sign up a new car sales office, follow us on our social media pages below for day to day updates on recent work.