Ginger Snaps - March In A Nutshell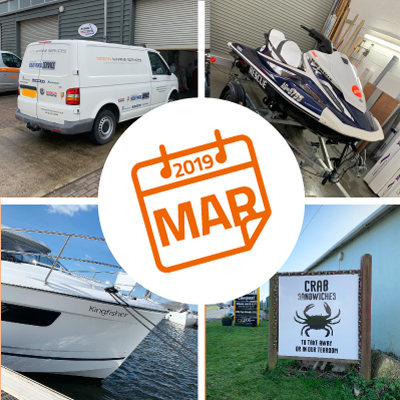 Friday, March 29, 2019
March brings us the first day of spring, Mother's Day and this year, Pancake Day! Here's a glimpse of what we've been up to over this busy month.
Vehicle Branding Refresh
March started, with us finishing off branding for Chichester based Ocean Marine Services vehicles. Their branding, always clean and sharp in design instantly grabs your attention. The two VW Transporters and VW Caddy featured marigold orange and charcoal grey vinyl lettering combined with printed and laminated logos.
Crab Sandwiches At The Old Piggery
The Old Piggery Farm Shop along the Selsey road were looking to re vinyl an existing sign board. Les suggested using the reverse of the sign for the new vinyl graphics to allow for a simple swap around when a different message was required. Currently advertising 'eat in or takeaway crabmeat sandwiches', you can't miss the black on white design as you drive into Selsey, why not pop in for a spot of lunch!
Fresh Set Of Graphics For Chichester Plumbing
The vehicle graphics we designed, supplied and installed for Chichester Plumbing definitely make an impact. The final design featured gloss black flooded panels overlaid with sunny sunflower yellow vinyl lettering. The branding continued onto the doors with contact details and social media icons, all styled in brand fonts and colours.
More Boat Names!
Yes, we've been designing, supplying and installing more boat names in quality marine grade vinyls. We've had 'Monty', 'Kingfisher', 'Ginvincible', "Howzat" and "The Big Boat". As well as fitting the new name for 'The Big Boat' boat we also installed some custom red and black vinyl stripes that really jump out from the glossy white gelcoat.
Jetski Branding for 2XS
This ski certainly stands out from the rest! 2XS' surf rescue ski was fitted with cut vinyl lettering and company logos, including a fluorescent orange that definitely grabs your attention.
As we head into April we are busy prepping graphics for some interesting installs coming up in the next few weeks, give us a follow on social media to get the first look!