Ginger Snaps - February In A Nutshell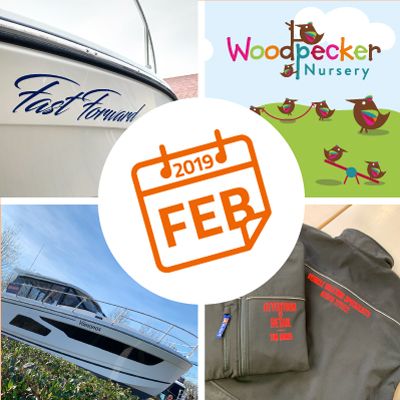 Thursday, February 28, 2019
Where is the time Flying? Somewhere hot i hope! Valentines has been and gone, more and more Easter treats are filling supermarket shelves and the icy starts are starting to demise (fingers crossed). Here's what we've been up to over this rather short month of February.
New Banner For Woodpecker Nursery
Chichester based Woodpecker Nursery got in touch needing a new banner. Their existing one was rather old and did not represent their company branding. Supplied with a logo as a starting point, Ryan began work on the banner design working on the brief of creating "a warm and welcoming feel". The final design included a selection of bright colours, and a little 'woodpecker nursery' scene, who knew woodpeckers could play 'see-saw' and 'jump rope'!
Boat Names Continue
We thought we were busy last month with boat names, it seems it was just the start! We've been back over to Chichester Marina on several occasions this month removing old, and supplying and installing new names cut from marine grade vinyls. In addition to the supply and install of names we have been busy designing artwork for name installs coming up in the next few weeks.
Date Changing Made Easy
Selsey Methodist Church required a new banner. They required a permanent advert for their table top sales with the ability to swap and change the dates, without needing a new banner each time. Allot of companies solution to this is to print the banner and apply a date using vinyl lettering, however this is difficult to remove after the event is over and once it's removed it cannot be reused. Les's solution was to print 12 months of the year, and 31 days as banner patches and create a velcro system for them to be easily fixed, used, removed and stored again ready for next time. Quick, effortless and effective.
The 'Nipper' Gets New Stripes
Funtington based Reliance Caravan & Motorhome Services were working on an old Elddis 'Nipper', that needed a refreshed set of pinstripes. We drew up designs and supplied and installed high quality external grade graphics in a punchy colour combination of cherry red and graphite grey. You can check out the before and after photos on our instagram post HERE.
Attention To Detail's Branded Workwear
Tim James, owner of Attention To Detail, a Selsey based vehicle valeting company, needed some new workwear. Upon receiving Tims newly designed logo we cut graphics in heat transfer vinyl, which was heat pressed to polo shirts, fleeces, sweatshirts and jackets. The contrast of the bright red logo against the dark garments looks great! If you could do with some new workwear give us a call, we'd love to help.
With February over Mother's Day is now approaching fast! If you've been looking for something different to get her this year, take a look at our Mother's Day Déco Blocks, they make for a really unique gift.
A busy few weeks are ahead for us, be sure to follow our social media pages for up to date snaps of what we have been up to.