Ginger Snaps - August In A Nutshell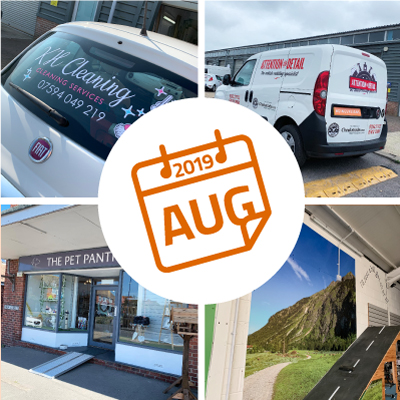 Saturday, August 31, 2019
The end of August is here, and it's been a month of varied work, including wrapping fridges, fitting wall graphics, branding tables and chairs as well as updating some shop fronts along Selsey high street. We hope you all enjoyed the august bank holiday sunshine, we're hoping the sun stays around for a bit longer before we head into autumn! Let's take a look at what we've been up to this month.
Wall Graphics At The E-Bike Centre
The E-Bike Centre, situated in Birdham wanted to set up some backdrops to help display their bikes. The four different scenes were printed and laminated with matt finish over laminate and mounted onto 3mm foam PVC panels, pieced together to create 8ft x 10ft backdrops that were fixed to the walls. The finished job looked great and totally transformed the display areas. What was a pained breeze block wall is now a trip to the beach, the forest, or the mountains.
The Crab Pot Re-locates
Selsey's micro pub 'The Crab Pot' has recently moved to 153 High Street, and a new premises means some new signage was required! The newly branded shopfront included printed graphics with gloss finish over laminate, mounted to aluminium composite panels, fixed to the fascia and finished with coloured caps. We also wrapped a fridge in a printed green to match the internal paintwork, additionally we branded sets of tables and chairs with printed logos using a high tack adhesive vinyl.
The Pet Pantry, Rebrands
The Pet Panty, Selsey' one stop shop for all of your pet related products, has had a complete re fit and re brand. Starting with their brand new logo and design elements, created by a local artist, we put together visuals for the new look shop front which included window graphics and fascia boards. The end result looks clean and fresh with flooded grey boards matching the external paintwork and crisp white lettering. Their hand drawn logo fitted to the windows gives a warm and welcoming feel to customers. Pop by to take a look for yourself, it really is quite a transformation!
KH Cleaning, Mobile Advert
We don't just sign write vans, we can brand your car too! Local cleaning company KH Cleaning wanted to create a little mobile advert, by advertising on the rear windscreen of their car. Seen by lots of people every day this is a great way to advertise your business. The window graphics consisted of printed vinyl which was over laminated for protection and contour cut into lettering and a logo. A simple and effective way of building up brand recognition, wether your parked up on a job or taking a trip to the shops!
Clean, Clear & Crisp Graphics
Vehicle valeting specialists Attention To Detail, based in Selsey, have now gone mobile. With this new mobile valeting service came a new van that required some graphics. Keeping it simple the van design included printed logos and cut vinyl lettering in glossy tomato red and black, contrasting with the white paintwork creating clean, clear and crisp graphics. Give them a call for all of your vehicle valeting needs.
September is again looking to be a varied month of work, vehicle graphics for a book shop, motorhome graphics, and another handful of shop fronts to brand. Follow our social media pages to keep up fully up to date with what we're up to.