Gin-ger Signs Create Graphics For Jarrolds's Gin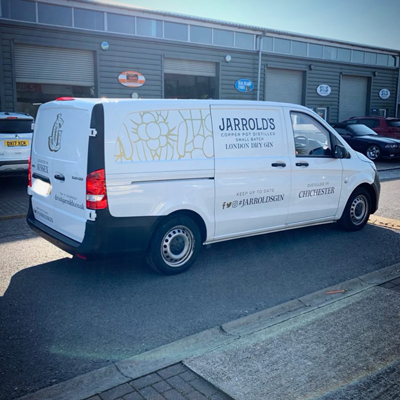 Friday, March 22, 2019
The Nodding Donkey Distillery Company, a Chichester based distillery wanted to turn their blank canvas of a van into a mobile advert for their Chichester distilled 'Jarrold's' Gin.
Following a meeting with Jamie and Adam from Jarrold's we began work on the vehicle graphic design. After browsing their website to get a feel for their branding and taking some inspiration from their bottle labels, we created a simple, minimalistic design that reflected their brand seamlessly.
The finished graphics included gloss black and gold lettering, styled to match titles and pages on their website. We also cut company logos and graphic elements taken from their bottle labels in the gold vinyl. The latter filling the rear side panels creating a recognisable feature if you've ever bought a bottle of their 'London Dry Gin'.
As well as branding up their vehicle we helped breathe some new life into some old chalk board, A-Boards with the help of some printed vinyl graphics, mounted to 3mm PVC. These sign boards were then fixed over the chalk board using a high bond double sided tape, resulting in a refreshed set of graphics that won't scuff or wash off in the rain!
Wait, there's more! we also made up some A6 Acrylic 'Tilt Talkers' with a matt laminated graphic mounted to the front of each one, to be used as bar stands, be sure to take a look for one in your local!
If your vehicle is in need of branding or you need some signage to go alongside your existing graphics give us a call, we'd be happy to help!