Get Mum Something Special This Mother's Day!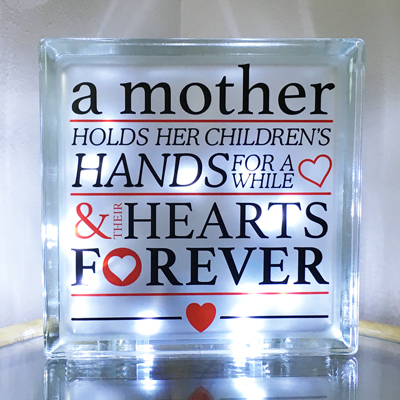 Saturday, February 23, 2019
Flowers? Chocolates? A Nice Meal Out? How about one of our Glass Déco Blocks?
I'm sure you've seen our Christmas and Valentines blocks, well now our Mother's Day Gift range is available for purchase, you can take a look at the selection of designs HERE.
Designs are printed onto an etched vinyl and mounted to the front face of a satin finish glass block. We then fill each block with a set of battery operated LED lights. The glow of the lights illuminate the printed etched graphic from behind resulting in a unique decoration for your home.
We have a selection of designs to choose from, if you're looking for the personal touch we will create you a bespoke block designed to your requirements. These personalised designs can also include your photographs, why not swap out a few photo frames for some Déco Blocks!