Fleet Branded for MJN Tractors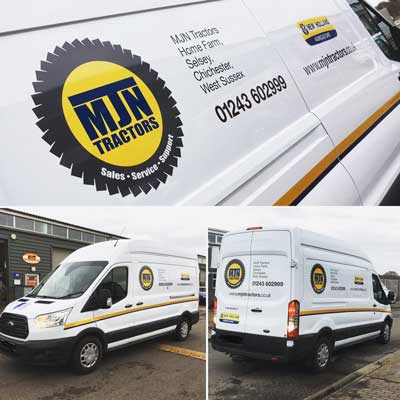 Friday, March 23, 2018
Graphics designed, supplied and installed for the Selsey based tractor sales company.

MJN Tractors came to us with a few versions of a new logo to see which style and shape would work best across their current fleet of 7 vehicles, we took these logos and put together several visuals. Once the decision was made on the final logo we began designing the finalised artwork, keeping each vehicle uniform and recognisable as part of MJN's fleet.

The final designs gave a professional look with black lettering against the crisp white paintwork and a splash of colour in the form of two pinstripes, matched to the brand colours in their logo. This clean and tidy design really catches your eye and gives any on looker the essential information they need as to who MJN Tractors are and how to contact them.
The media used across the fleet was of high quality external grade and consisted of solid colour cut vinyl and printed graphics. We installed the livery on site at our unit in Sidlesham.