New Premises, New Colours & New Menus for The Lunch Box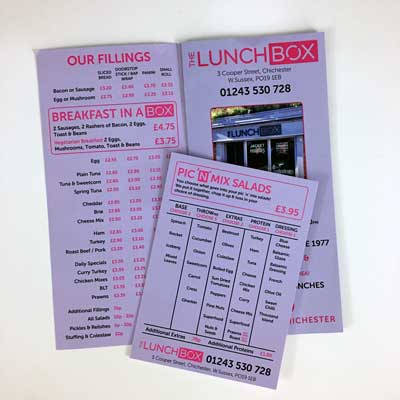 Tuesday, July 10, 2018
After a change of premises, The Lunch Box in Chichester were after some new printing.
We have worked with The Lunch Box for a number of years, producing some of their price lists, takeaway menus and business stationery. Following a change of premises in Chichester (you can now find them at 3 Cooper Street, PO19 1EB) they were looking to update their branding across their takeaway menus and price leaflets.
With their new logo as a starting point we began work on re designing their takeaway menu. Creating design elements that could be used throughout a variety of advertising from social media to special offer leaflets and a-boards. The finished design was a colourful, silk finish tri-fold leaflet that really jumps out from the crowd. The lilac background compliments the fuchsia pink headings perfectly, some black text and images thrown into the mix break up the information for an easier read.
As well as the takeaway menus, we created some A6 Salad Box Leaflets, using the same styling elements from the takeaway menu, ensuring a consistent brand image and recognisable look for their customers.