Branded Product Labels For Auto Valet Supplies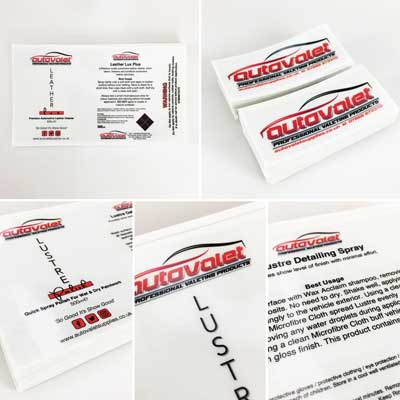 Tuesday, July 10, 2018
With summer events approaching Auto Valet Supplies were looking for some refreshed product labels.
We have been working with Auto Valet for many years, supplying a variety of labels for their valeting products. This summer they were looking to standardise a new design across their selection of products.
Starting with some essential design elements form previous labels, we began standardising font sizes and colours thought the product range. Their new logo sits proudly at the top of each label guaranteeing instant recognision as an Auto Valet product. The clean easy to read fonts paired with red social media icons, colour matched to the logo result in a smart professional finish that that marries perfectly with Auto Valets Brand.
All labels from this range were printed on a clear vinyl with protective gloss over laminate, with the bottles also being clear the colour of each product fills in and around the design's blank space, creating a unique look for each product whist keeping a standard design across the range.