Photo Point Wall Graphics At Bunn Leisure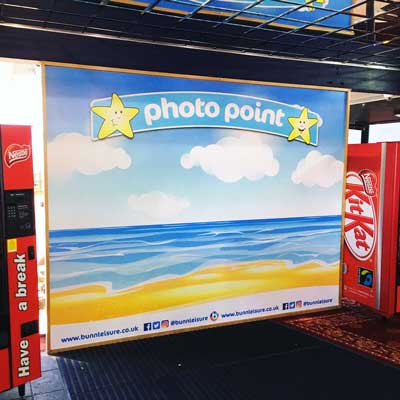 Thursday, April 26, 2018
Bunn Leisure were looking for the best way to refresh their "Photo Point" ready for the summer season.
Following an on site meeting with Jo and Simon from the marketing team we assessed the condition of the existing signage and discussed several options to rebrand the wall. The end result was a cost effective solution that did not compromise the quality of the final product.
Once artwork was agreed, we printed onto a quality grade vinyl with a protective matt finish over laminate to cut glare from internal lighting. The design was created to be installed in two horizontal sections, creating a seamless overlap along the images horizon.
From the existing meeting point signage we removed a raised panel and trimmed away any areas of the graphic that were peeling. With the wall now at one level we installed 3mm PVC boards to cover over existing graphics, creating a clean and smooth surface for the new vinyl to adhere to.
The end result was a bright and colourful seaside photo point, that will add some sunshine to Bunn Leisures waterfront complex all year round.