Ginger Snaps - August In A Nutshell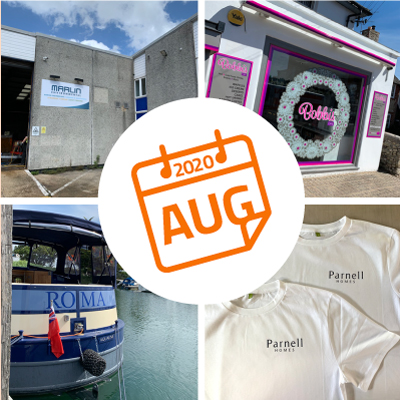 Monday, August 31, 2020
Hello again, yes, it's true we have reached the end of August already! 2020 is definitely flying by, we will soon be back in jumpers, scarfs and bright orange raincoats and as the fresh autumn days arrive! Here's a snapshot of what we've been up to over the past month.
Bobbi's Cafe - Brightening Up Selsey High St.
Selsey based Bobbi's Cafe now have a splash of colour in the form of some new signage. Their window has been brought to life with a digitally printed floral reef graphic and coloured boarder in a punchy violet and magenta! As well as their window graphics, we designed and installed aluminium composite sign boards, a banner and applied a digitally printed stripe to their awning. If your down Selsey high street, give them a try, they have great coffee!
Branded Workwear For Local Businesses
We've had allot of workwear to brand up this month for a variety of local businesses, Mobile Tackle Box, PCL Groundworks and Parnell Homes to name a few. We use a heat transfer process for branding up your garments, which can either be full colour print or cut from single colour transfer vinyls. We can get the clothing in for you or you can supply your preferred brand of clothing. Check out our Workwear section for more info.
Wagner Renewables - New Vehicle Graphics
Sidlesham based Wagner Renewables had a new van that needed sign writing, after designing the layout, graphics were produced via digital print and cut logos and solid colour cut vinyl lettering. The new graphics match their previous van we branded toward the end of last year, keeping a recognisable brand image. The oversized printed logo element either side of the van looks great and certainly grabs your attention when passing!
ROMA - Barge Name In Chichester
We design, supply and install allot of standard boat names, but this one was a little different, applying the name to a barge in Chichester Marina! We used marine grade cut vinyl lettering for both the bow and stern names, in an almond and ultramarine blue, the contrast working perfectly. The sunshine also came out for us to take some great photos of the finished name install.
Marlin Environmental - New Unit Signage
Marlin Environmental needed some signage for their new Farlington based unit! We braved the heights for this one, the install consisted of two 8ft x 4ft signs mounted with digitally printed and laminated vinyls. Their new unit is coming along nicely, and their new signs look great with their clean and colourful branding.
As we head into September we have some vehicle graphics coming up and a handful of design and print projects, follow our social pages below to get the first look of these! See you next time!