Ginger Snaps - June In A Nutshell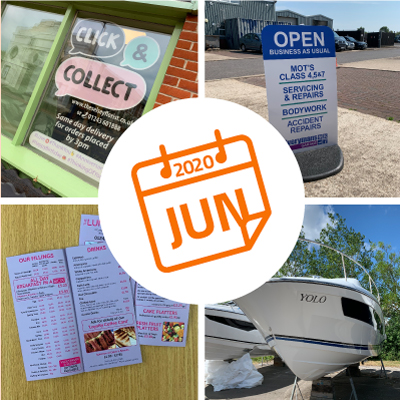 Tuesday, June 30, 2020
Hello! We can't believe we've reached the end of June! It's nice to finally be able to write a blog on the work we've produced over the past month. It's been a hectic one with some of our customers preparing to re open their doors and others kick starting their projects again after everything being paused during lockdown. Here's a snapshot of our first month back to work!
New Menus For The Lunch Box
The Lunch Box, located in Chichester needed a refresh of their price lists ready to re open at the start of the month. We designed and printed new batches of folded leaflets as well as A6 promotional flyers for their salad boxes and new protein pots! As well as these, flyers were designed advertising their re-opening date. If you're in Chichester swing by and give them a try, they're on Cooper Street and have had a smart new collection point shutter installed, ideal for these bizarre times!
Boat Names, Lots Of Them!
Grace Under Pressure, Best Cellar and Aquila to name a few, boat names are always interesting mini design projects! We've had a handful of boat names to design and install over the past month for Blackrock Yachting in Chichester Marina. Seems the sunshine has been out and everyone is looking to get out on their boats! We offer a bespoke design service for all boat names resulting in yours becoming unique and unlike any other out there!
Click & Collect At The Selsey Florist
The Selsey Florist, adapting to the new normal wanted to advertise their click and collect service. This was achieved with a large set of window graphics. Designed, reverse printed onto clear, laminated with white and applied to the inside, viewable from the outside means the graphics will not be scuffed or picked at by passers by. Not only do they offer a click and collect service, you can get same day delivery for orders placed by 3pm!
Everymans - Business As Usual
Chichester based Everymans Garage required some signage to advertise the fact they're open for business as usual. We recommended a pair of Ecoflex-tra Pavement Signs. These signs are ideal for roadside and forecourt promotions, being slightly larger than the standard flex signs. After designing the graphics to match their current branding, they were printed onto a high quality external grade vinyl with protective gloss over laminate, then applied to the aluminium signs.
Floor Graphics For Local Businesses
We've always been able to produce floor graphics, but all of a sudden they're in fashion! Several sets have gone out the door this month, directional arrows and reinforcement of the social distancing rules are obviously a popular choice at the moment however we can print anything you desire from bespoke messages to company logos. We print onto a high tack vinyl with a R9 Certified Anti Slip over laminate. If you need some graphics get in touch to see how we can help.
As we head into July, we are hoping the sunshine comes back as currently, whilst writing this blog the rain is pouring down outside! To keep up to date with what we have been up to, follow our social media pages below. Also as we head into a new month a new serving of Ginger Snaps will be served up over email, to sign up hit the newsletter icon at the top of the page!