Ginger Snaps - May In A Nutshell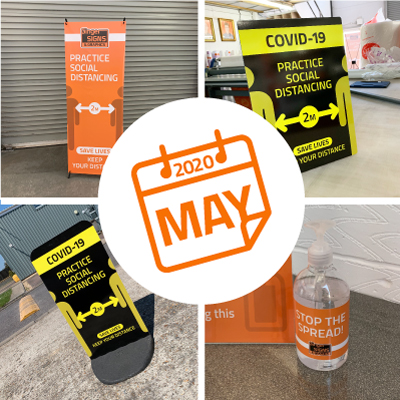 Sunday, May 31, 2020
Hello Again! We hope you are all keeping well in these strange times. As you know this blog is usually about the work we have produced over the past month. Following the governments advice we have spent the past month getting our unit ready for us to press play and resume business as normal, well, as normal as possible in the current climate. So for a second consecutive month this will be a very short blog!
Covid 19 - Signage
As well as getting our unit prepared for us to re open we have been creating a range of signage products that we will all need as we begin to open our doors as of next week. There are a standard set of designs, that can be purchased as they are, or alternatively we can brand them with your company logo, brand colours and fonts. You can take a look at the full set of signage options here.
We look forward to next months blog which will be back full of our work! In the meantime follow our social media pages below for day to day updates on what we've been up to! Also our next serving of Ginger Snaps is due in your inbox on Monday, if you haven't already hit the news letter icon in the menu to sign up!