Ginger Snaps - April In A Nutshell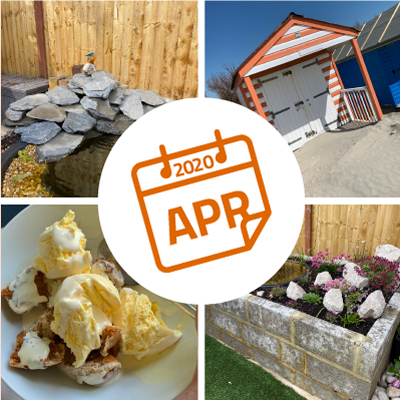 Thursday, April 30, 2020
Hello, We hope you are all keeping well and staying safe in these very strange times. Normally this would be a blog about all of the fabulous work we've done throughout April, but, unfortunately we haven't done any, so this will be a very short blog!
"Tumbleweed Rolls Through The Unit"
For us, and no doubt many others, this is the first time ever that we have not billed for a single piece of work in a month! Sorry, did you hear that? It was our accountant falling off his chair! Like many small businesses we are currently relying on the government schemes to support us, but as soon as it's possible we will be back producing work. Please keep an eye out for all updates from us regarding Covid-19 in our news post here which is updated as the situation evolves.

Easter Weekend!
What lovely weather we had, shame we could not go out and socialise in it! Les was busy in the garden, building a gate and a small waterfall feature for his rockery pond. Ryan took a walk to the beach and spotted a quirky beach hut in our brand colours, he also found a new flavour combination of hot cross buns with marmite peanut butter, ice cream and pouring cream! We think lockdown has sent his taste buds into one.
Ginger Snaps
In April we sent out the first serving of 'Ginger Snaps', not an April fool but our new monthly e-shot to keep you informed of what we've been up to, what's going on and what's new in the world of Ginger Signs & Graphics. To sign up hit the newsletter icon at the top of the site!
Heading into May we are preparing for when lockdown is lifted, so keep an eye on our social media for signage products that we will all need in one form or another when we look to re open our doors. Until next time take care and stay safe.