Ginger Snaps - March In A Nutshell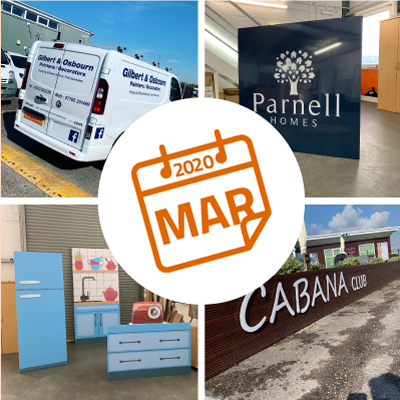 Tuesday, March 31, 2020
Hello! Firstly we hope everyone is keeping well, and staying safe, secondly this month's blog will be a Covid-19 free zone! For recent updates on actions we have taken regarding Covid-19 please visit our news post here, which we will update with the ever changing situation. A positive for this month is that the weather seems to have improved, nice to head out on an install job with some sunshine and no fear of the graphics whipping away in the wind! Here is our snapshot of March.
Big Sink, Big Fridge, Big Radio
It's that time of year again where local businesses are preparing for the start of the spring holiday season and Bunn Leisures' entertainment team needed some large set pieces for their cooking show! A 7ft Fridge, 8ft sink set, cupboards, drawers, extra large flower, sugar and eggs complete with a kitchen radio of course! The stage scenery was digitally printed onto matt finish vinyl which we then mounted to 8mm correx board and cut to shape. The 8mm correx is sturdy enough to hold its shape and also lightweight, meaning it's easily moved on and off of stage as required. The matt finish print stops stage lighting reflecting off the scenery, ensuring it looks its best, up close or sat at the back of the venue.
Cabana Club Gets A Refresh
Selsey Country Clubs' Cabana Club has had a refresh for the start of the new season. Part of this refresh included some new wooden planters along the front of the building which were calling out for some signage. After discussing different options the final install was raised acrylic letters produced from 5mm white acrylic. Installed in the sunshine the clean cut white lettering against the dark stained wood contrasted perfectly.
Glossy Site Boards For Parnell Homes
Located in West Sussex, bespoke home builders Parnell Homes required a pair of site signs for their most recent project. Printed onto an external grade vinyl with a protective gloss over laminate, which we then mounted to aluminium composite hoarding board. The dark navy background with white logo mark looked excellent and the shiny gloss laminate gave a mirror like sheen to the signs.
New Graphics For Selsey Based Decorators
Local painter and decorator Gilbert & Osbourn had a crisp white van that was in need of branding. Designed to be branded in one colour of vinyl, Metamark's glossy Prussian blue was the winning choice, which works brilliantly against the paintwork. This is an occasion where less is more, the cut vinyl lettering jumps out at passers by and the design was deliberately kept clean, simple and clutter free with only essential information included.
Workwear for Cathedral Gardeners
Did you know we will heat transfer branding to your own garments? We do! Just like this set of hoodies for Cathedral Gardeners, featuring full colour left breast logos. Want us to get your workwear in for you? We will do that too! We use either full colour digital print or layering of solid colours to achieve the makeup of your logo and branding which is then heat transferred to the garments.
Happy Birthday To Us!
On the 9th of March we turned 14! Thanks to all of you for following along on our journey as a business, whether you've been a customer from the beginning in the XL Graphics days or you hopped aboard the bus when it was rebranded as Ginger Signs back in 2015!
Heading into April we are continuing to catch up with posting photos of our old work to social media, follow the links below to give us a follow. See you next month!