Ginger Snaps - February In A Nutshell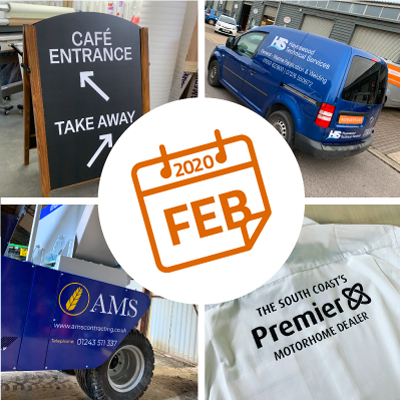 Saturday, February 29, 2020
Hello again! February is done and dusted for another year and it's been a full on month of branding a variety of media; vans, cars, farm machinery even a set of tractors! Luckily for us, all inside installs so no graphics blown away in the stormy winds or getting drenched in the down pours we seem to be in the middle of. Once again here is a look at what we have been up to this month.
AMS Contracting Round 1!
After finding us via our Instagram account Birdham based AMS Contracting called for us to go take a look at branding up their machinery and vehicles. The following week we had their pickup at our unit in Sidlesham for sign writing, solid colour cut vinyl lettering was used to make up their logo and contact details, the design also featured a large 'wheat ear' from their logo, covering the rear cab doors in a vibrant sunflower yellow which paired brilliantly with the silver paintwork.

AMS Contracting Round 2!
This time we ventured out to AMS in Birdham as our unit is nowhere near large enough for 3x John Deere Tractors! The three tractors and large 'Top Drain' machine were sticker'd up with cut vinyl decals to match the newly branded pickup truck. As well as fitting these graphics we supplied some spare sets in various sizes to be used on new machines and kit in the future.
Premier Are Show Ready
'The South Coast's Premier Motorhome Dealer' Premier Motorhomes needed some shirts branding ready for their visit to the Caravan, Camping & Motorhome Show. If you did not know, we will heat transfer to your own garments, ideal for those of you who have a preferred brand of workwear. Once we'd unpacked the precisely packed classic white dress shirts, removed the plastic bags, bits of cardboard, tissue paper, plastic bits around the buttons, and what felt like 100 white 'clippy' things we heat transferred single colour black logos and lettering to the workwear. You cannot beat black on white for contrast and the finished shirts looked great!
Hayeswood Technical Services Rebrand
Hayeswood Technical Services a General, Marine Fabrication & Welding company have recently undergone a rebrand. This means their existing vehicle graphics needed removing to create a blank canvas for the new branding to be applied. Logos were produced using digitally printed, laminated and contour cut vinyl to match their brand colours, the design was kept clear of any clutter with only the essential information included: logo, what they do and how to contact them. Both the finished vehicles looked very smart and really bring their brand alive out on the road.
New Café A-Boards for West Wittering Beach
Toward the end of last year West Wittering Beach opened their newly built café. This year they needed some smart wooden A-Boards ready for this months half-term. Our recommendation was a set of wooden effect steel framed a-boards with reversible chalkboard panels, this allows them to have vinyl graphics applied one side and then be flipped whenever required for an offer or message to be written up in chalk pens. They come in two different sizes and can also be branded with a full colour digital print if handwriting your messages is not for you! Get in touch if you can see one of these Premier A-Boards helping to advertise your business.
Heading into March we have some Raised Lettering to install, a handful of bespoke packaging label jobs and a batch or workwear to brand. As always follow our social media accounts below for day too day updates on what we've been working on.