Ginger Snaps - January In A Nutshell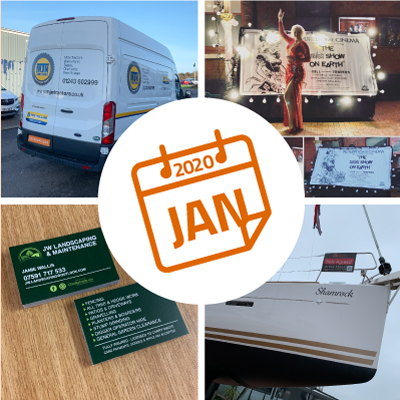 Friday, January 31, 2020
Firstly, Happy New Year! Secondly, has January flown by so fast for everyone? We returned back to work on the 2nd after a short break over Christmas, and dove straight back into a variety of print, install and design jobs. We've stuck to January health kicks and pushed through 'Blue Monday' by chain-drinking mugs of tea and coffee! Here is a snapshot of our first month of 2020!
Prints For JW Landscaping
Local business JW Landscaping & Maintenance came to us looking for their ideas for flyers and business cards to be brought to life and tied in with their existing branded workwear. Taking their initial layout ideas we re drew their logo in a vector format meaning it can be used across a variety of media and scaled to any size required without loosing quality and causing pixilation. Once we had the logo re drawn, the designs were put together, dark forest green backgrounds with white text in a clean, legible font. Final printed stationery looked great and we even produced some digitally printed and laminated vinyl stickers too.
Book-ending The Month With MJN Tractors
Back in 2018 we branded up Selsey based MJN Tractors fleet of vehicles and this year we've dug out those artwork files to produce some more graphics! The first vehicle graphic job of the month for us was supplying and installing new livery to the rear doors of one of MJN's vehicles, and just this week we've ended the month by installing vinyls to two of their new vehicles. As before the design is kept clean and sharp with gloss black lettering against the white paintwork and a splash of colour brought in with two pinstripes matched to the brand colours in their logo.
The Smallest Show On Earth Gets A Big (ish) Banner
Bognor based Picturedrome Cinema has celebrated it's 100th anniversary, and as part of this celebration they had a screening of the 1957 Classic 'The Smallest Show On Earth'. A quick turnaround was required on some printed banners to use on the night promoting the film. Printed overnight they were ready in time for the event, and looked brilliant in situ illuminated by a set of 'hollywood' lights.
Branded Keyrings For Premier Motorhomes
Premier Motorhomes, based in birdham needed another batch of promotional branded keyrings, a practical and decorative giveaway to their customers. Each keyring is engraved with their logo and contact number looking great against the satin silver body. If you require any branded products for your business get in touch, we can supply anything from branded pens to mugs, notepads, umbrellas and torches to name just a few.
First Boat Names Of The Year
Its the time of year again when boats are in and out of the water, luckily the two we've named so far this year have been out of the water making for a much smoother install job! All of our boat names are created from high quality external grade vinyls, we can use your preferred font choice or create you somthing bespoke thats unique and unlike any other out there. You can take a look at some of the boat names we've produced here.
Heading into February we have a few vehicles in for sign writing and some motorhome decals to install, to keep up with what we're up to each day make sure you follow our social media pages below!