Ginger Snaps - December In A Nutshell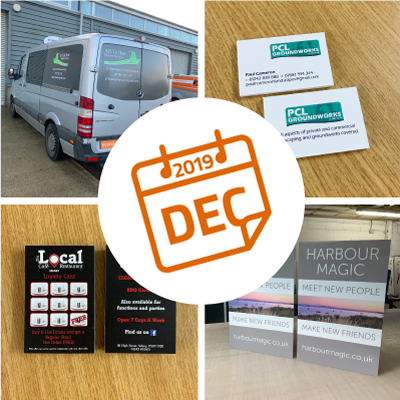 Monday, December 23, 2019
We've been counting down the days to Christmas, and as it's now 'Christmas Eve Eve' there are only two sleeps left! It's been a varied month of print and signage work, and this last week we have been busy printing last minute Christmas gifts, keep an eye out on our social media for those after the big day, we don't want to give any of our customers surprises away! Here's a look at what we've been up to throughout December.
Correx Boards For Harbour Magic
Local social club 'Harbour Magic' got in touch to order some more road side advertising boards, after their first batch resulted in them gaining some new members! The digitally printed graphics were mounted to corrugated plastic board and laminated with a protective gloss over laminate to allow the boards to be cleaned up and moved to a new location without scuffing the ink. The grey background and local sunset photo give a smart and professional look and the wording on the board is kept simple and clutter free allowing them to be easily read by passers by. If you live in Chichester or any of the surrounding harbour villages, visit their website to see the kind of events and meet ups they offer!
Branding Created For PCL Groundworks
Sidlesham based PCL Groundworks Ltd. were in need of a new logo, something modern that could be used across a variety of advertising media. Once we had designed the logo we used it across their business cards, builders boards and workwear, keeping branding consistent using the same fonts and colours. The workwear featured full colour heat transferred logos, pressed to grey polo shirts and navy blue hoodies and their business cards and builders boards mirrored one another with crisp white backgrounds, a perfect contrast for their teal logo and navy type. If your branding needs refreshing for the new year give us a call, we'd be happy to help.
Aft To Bow - Magnetic Graphics
Don't want to advertise your business all the time? Or want to switch between different company adverting? Magnetic graphics are the answer. Local business Aft To Bow had a Mercedes sprinter that they wanted to brand up using vehicle magnetics. The design featured a charcoal grey vinyl background paired with white and lime green lettering and logo. They would have looked great on their own, however Aft to Bow wanted to take the design one step further by flooding out the side and rear door panels in the matching charcoal grey, meaning once the magnetics were in place the background seamlessly blends with the panels giving the impression the lettering and logo are applied directly to the panel work.
Etched Vinyl At The Selsey Club
The Selsey Club wanted to obscure the view out of two windows of their events room, that looked out into a working yard. Our solution to this was to use etched vinyl, which blocked out the view whilst still allowing light into the room. Applied to the inside of the glass there is no worry of scuffing the film when externally cleaning the windows. The etched film is also great for office partitions and doors to allow some privacy and works brilliantly for decorative patterns and lettering on windows if you require a subtle look. Get in touch if you see a place for etched vinyl in your workplace.
Loyalty Cards For The Local Café
A new set of loyalty cards were on The Local Cafe Selsey's list this year, they were one of the last jobs completed and delivered just in time for Christmas. Printed on a 350gsm uncoated card allowing them to be stamped every time you buy a hot drink! The reverse of the card was not to be wasted, with it being used to advertise their opening days and social media pages. Loyalty Cards are a great way to show your customers you care, whilst keeping them coming back for more.
We are now closed for a short break over Christmas and will be back in the office on the 2nd January 2020, well rested and ready to dive back into work! In the meantime we would like to say a huge thank you to all of our customers new and old for a great year. Wishing everyone all the very best for a restful Christmas and a Happy New Year! We look forward to working with you in 2020.